The artists of The Moving Matters Traveling Workshop were invited to the newly renovated Pavillon Vendôme in connection with "Beyond this Border, your Ticket is no longer Valid" exhibition curated by Guillaume Lasserre. They examined their personal experiences of border crossing in individual performances linked by readings of passages from Susan Ossman's book, Moving Matters Paths of Serial Migration.
The performance started with a procession of Blanca Casas-Brullet's helium filled "Baga(t)ges" around the several rooms of the art center that attracted the audience into the great room of the pavilion. When the bags were freed and gathered in the center of the gilded ceiling, Guillaume Laserre and Susan Ossman began a bilingual exchange of excerpts from her book, leading to Erith Jaffe-Berg's "There and There and Back Again," which told her story of developing a "third language" to find a personal space beyond the repeated moves of her family between Israel and the USA. Alice Peinado projected images of her childhood migrations as a diplomat's daughter, overlaid with the audio interviews she did with immigrants who moved from North Africa to France to labor in factories. Beatriz Mejia-Krumbein offered a new version of "Mi Tiempo, Mein Raum, My Map," in which she recites the names of all of the people she has known in her several moves across Columbia to Germany, Mexico and the USA. She engaged the giant mirrors of the palace to explore the doubling experience of the immigrant, then used the red ribbon with which she symbolically connects her different homelands in the performance to "tie up" the audience, leading them to a different, darker space where the sound of Ivan Ormond's percussion animated Nadine de Koenigswarter WOCOUE WOCOUE. This drew attention to the importance of music, rhythm and bodily experience in motivating her several migrations across West Africa and to the USA. Nicola Mai's film Samira featured him in playing himself as "ethnographer' in a fictionalized account of a true story of cross-border gender-switching.
Exhibits
Blanca Casas Brullet : Baga(t)ges
Guillaume Lasserre : Reader
Susan Ossman : Reader
Erith Jaffe-Berg : There, and There and Back Again / Ici et là et de retour
Alice Peinado: Parcours croisés
Beatriz Mejia-Krumbein: Mi Tiempo, Mein Raum, My Map
Nadine de Koenigswarter : WOCOUE WOCOUE
With the participation of percussionist Ivan Ormond
Nicola Mai : Samira (film)
Participating Artists
Blanca Casas Brullet
Baga(t)ges
Blanca Casas Brullet est né en Catalogne. Après ses études d'Art entre Barcelone et Paris, elle se fixe à Paris en 1997. Elle présente son travail depuis dans différents pays de l'Union Européenne, ainsi qu'au Canada. Elle expose régulièrement en France, où elle travaille depuis 2001 avec la Galerie Françoise Paviot à Paris. En utilisant différents supports de l'image et de l'expression plastique, Blanca Casas Brullet met en place des installations qui interrogent la représentation du corps et son inscription dans son environnement humain et social.
Guillaume Lasserre
Historien d'art, Guillaume Lasserre participe en 2000 à la transformation du Domaine de Chaumont-sur-Loire, aujourd'hui centre d'arts et de nature. En 2009 il travaille au sein de la direction de la culture de la Région Centre. Il dirige aujourd'hui le Pavillon Vendôme – Centre d'art contemporain.
Susan Ossman
Anthropologue et artiste, Susan Ossman a vécu en France, au Maroc, en Grande-Bretagne et aux Etats-Unis. Elle enseigne et dirige le programme Global Studies à l'Université Riverside California à Los Angeles. Elle a publié récemment un livre sur la question de la migration sérielle Moving Matters: Paths of Serial Migration.
Erith Jaffe-Berg
There, and There and Back Again / Ici et là et de retour
Erith Jaffe-Berg enseigne l'histoire du theâtre et de la performance à l'Université Riverside California à Los Angeles. Ses recherches portent sur les langues et le multiculturalisme dans la performance. Elle a grandi en Israël et en Californie du Sud, elle a vécu au Canda et en Grande-Bretagne. Elle fait partie de la compagnie de théâtre Son of Semele Ensemble de Los Angeles.
Alice Peinado
Parcours croisés
Après avoir parcouru le monde, cette italo-vénézuélienne vit à Paris. Anthropologue spécialiste de la question de la globalisation et ses conséquences sur l'art, Alice Peinado dirige le Design Management Department du Paris College of Art. Ses recherches et sa pratique questionnent les théories du design, la place de l'anthropologue sur la direction de projets sur le design et les liens entre la recherche ethnographique et la pratique artistique. Elle a co-fondé l' Organe de Concrétisation de Recherche, collectif réunissant deux artistes, un commissaire et une anthropologue.
Beatriz Mejia-Krumbein
Mi Tiempo, Mein Raum, My Map
Née en Colombie, Beatriz Mejia-Krumbein a vécu en Allemagne et au Mexique, avant de migrer aux Etats-Unis en 1987. Elle a étudié les Beaux-Arts et la Musique en Colombie, elle est diplômée de la James Madison University. Elle dirige le Département Arts de la Brandstater Gallery de La Sierra University. A travers ses œuvres, elle aborde l'immigration, des déplacements, de l'exploitation, de la violence et des abus. Elle multiplie et démultiplie les formes et les visages en laissant cours à ses propres émotions. Emotions, qui lui permettent de donner le reflet et les reliefs à ces problématiques.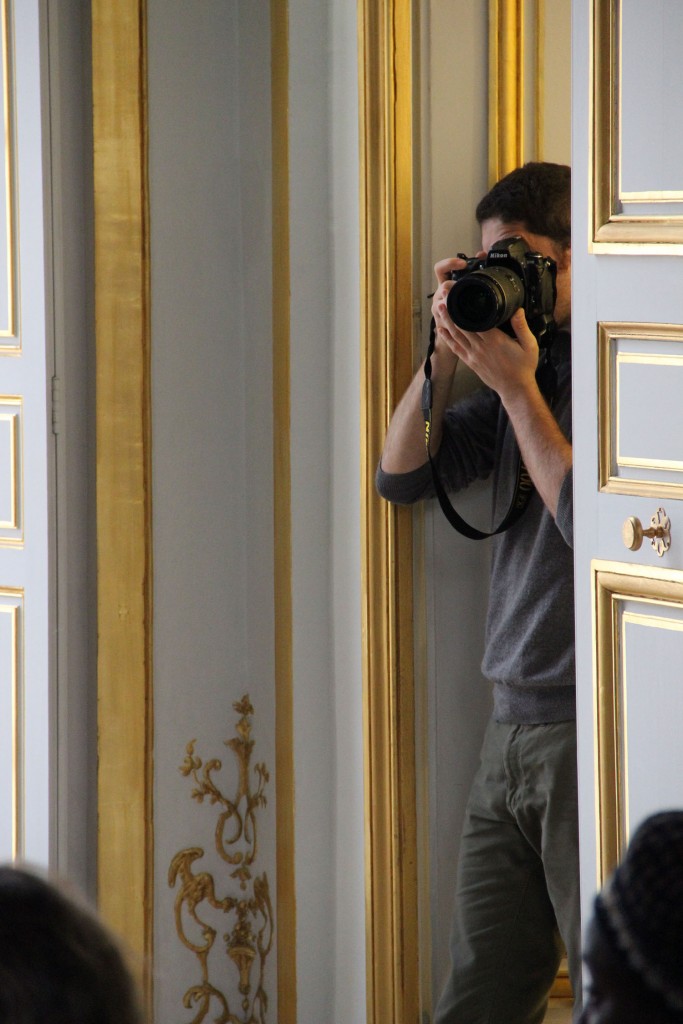 Nadine de Koenigswarter
WOCOUE WOCOUE
Avec la participation du musicien/joueur de percussions africaines: Ivan Ormond
Nadine de Koenigswarter est artiste. Entre 2003 et 2008, lors de longs séjours au Sénégal, Nadine de Koenigswarter a vécu proche d'une communauté de musiciens et fabricants d'instruments de musique traditionnels d'origine guinéenne, réfugiés économiques au Sénégal. "Leur mode de vie matérielle, simple, sommaire, ramenait aux choses essentielles de la vie, aux règles de la survie. Ils se logeaient à plusieurs dans de petites chambres sans eau ni électricité. Les journées se passaient dans la fabrication de leurs magnifiques instruments en bois, calebasses et peau, à répéter leur musique, à préparer les repas communs, à échanger en langue soussou tout en étant peu bavards. Le temps auprès d'eux prenait corps autrement que sous nos latitudes occidentales. Je rentrais dans ce rythme, ce temps silencieux auprès d'eux en les dessinant, en dessinant leur environnement ou aussi en réalisant quelques pièces en papier perforé."
Nicola Mai
Samira
Nicola Mai est italien. Ethnologue et vidéaste, il enseigne la sociologie de la migration au Working Lives Research Institute of London Metropolitan University et au Laboratoire Méditerranéen de Sociologie de l'Université d'Aix-Marseille. Ses recherches et ses vidéos se concentrent sur les expériences et les perspectives de la vie sexuelle et sentimentale des migrants. En mêlant la création de fictions ethno-expérimentales et des recherches documentaires, il tente de décrypter les complexités ambivalentes entre les dynamiques d'exploitations et de trafics sexuels et les enjeux de l'affirmation de soi chez les migrants.