About the Workshop
The Moving Matters Traveling Workshop explores migration and mobility by developing artwork, exhibitions, performances and public interventions. The artists of the MMTW have all been immigrants multiple times. Although they were born and have lived in different countries and speak diverse languages, they share the experience of "serial migration," a concept developed by Susan Ossman in "Moving Matters paths of Serial Migration" the book that sparked the creation of the collective. The MMTW pursues this research probing how experiences of migration have shaped themselves and others through their art.
The art of the workshop develops in the image of the serial migrant, evolving through a process of progressive inhabitation. Each workshop includes a new mix of participants in a new country and type of space. Each focuses on a specific issue. The workshop links these meeting by including several past participants and artworks in each new endeavor. Videos of each workshop and the memory book project create and preserve the memory of the expanding and evolving group.
To date, the workshop has developed artworks, exhibitions, performances and public interventions in California, France, the Netherlands and Romania. See Allegra Lab's series about the MMTW at http://allegralaboratory.net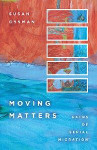 The Moving Matters Traveling Workshop began in May 2013 as a creative response to the book
Moving Matters Paths of Serial Migration
by Susan Ossman.
You can read more about the book
here.
Walls at "The Wall": MMTW Berlin June 2017
Kapelle der Versohnung, 4 Bernauer Str. Berlin The Berlin Wall came down in 1989, seemingly heralding a new era when walls would no longer divide people. Today, new border walls are going up at an alarming pace - along the US border with Mexico, between Israel and Palestine, India and her neighbors and around "Fortress Europe." Meanwhile, Berlin has offered walls to refugees. MMTW artists contemplate the many meanings of walls at the "Chapel of Reconciliation." Exhibition 1/06- 2/06 Performances 11/ 06 (4pm). 30/06 (7pm) and 1 July (5pm).
Comptence / Incompetence: MMTW Barcelona September 2017
Migrants often struggle with new languages, cultural habits and administrative practices. Migration often brings a lack of recognition of hard-earned competencies and consequent economic hardship. Are serial migrants specialists in incompetency? Does this contribute to the experimental process of the MMTW itself? We explore this question in our collaboration with the "journees philosophiques" of Barcelona.