The MMTW
The Moving Matters Traveling Workshop (MMTW) is a mobile collective of artists and scholars that evolves linking site-specific engagements in changing locations. The design of the project was inspired by the experiences of the serial migrant artists and scholars who founded it in 2013. Serial migrants have been immigrants, exiles, or refugees several times, in different locations. The MMTW follows a similar path, associating deep engagements with sites, publics and institutions in each new "home" with a long-term process of experimentation on migration and mobility.The unique design of the project generates a moving collective ground that inspires collective and individual art and research over time and across sites. How do different relationships with territory shape outlooks? What happens to the "migration problem" if communities are themselves made in motion? At a time when power is increasingly choreographic, answers to these questions require developing moving methods of investigation that draw on imaginative, sensory and conceptual practices that are isolated by disciplinary as well as state boundaries. As a counter-space- in motion, the MMTW critically apprehends the instrumentality of territorial discourses to develop evolving, performative art in sites conceived as meeting grounds. Since 2013, the workshop has developed in the image of the serial migrant, evolving through a process of progressive inhabitation. Each workshop includes a new mix of participants in a new country and type of space. Each focuses on a specific issue. The workshop links these meeting by including several past participants and artworks in each new endeavor. To date, we have produced over a dozen programs in venues as diverse as Amsterdam's premiere archeological museum, a Bucharest gallery once the printing factory of Ceausescu and the Chapel of Reconciliation at the Berlin Wall Monument. The first stage of our project shaped a community of commonality. This set the stage for a space where people with diverse experiences of mobility can come together to explore how movements shapes us as subjects, including those movements required to stay put. The MMTW critically apprehends the instrumentality of territorial discourses to develop evolving, performative art in sites conceived as meeting grounds. We develop moving methods of investigation that draw on imaginative, sensory and conceptual practices that are isolated by disciplinary as well as state boundaries.

Watch us at work: https://www.youtube.com/watch?reload=9&v=iraoh_MSP9Q See Allegra Lab's recent series of articles about the MMTW at http://allegralaboratory.net ______________________________________________________________________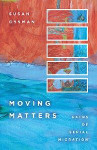 The Moving Matters Traveling Workshop began in May 2013 as a creative response to the book Moving Matters Paths of Serial Migration by Susan Ossman.

______________________________________________________________________
17 May Amsterdam / TRAVERSE HERITAGE: VOICE, BODY, MOVEMENT
On 17 May 2018 the MMTW joined the Amsteram based DoreMimi and Het Sannas choirs to present a reflection in motion on subjectivity, identity and the colonial legacy in Amsterdam and consider how we can "neighbour" in today's political climates.
1 June 2018 : MAPQUEST LONDON
The latest rendition of MAPQUEST was developed in London. MAPQUEST asks participants to develop a personal world map in response to questions about their places of residence, their dream-homes, the places they wanted to move but could not, those they love and where they would like to die. Depending on the site, they sketch their maps collectively on the floor, large canvases or on individual pieces of vinyl or paper. The project sets the stage for exchanges about mobility and migration among participants and with MMTW members. The maps inspire on-site performances and the entire collection will be used in a works of digital sculpture.