About the Workshop
The Moving Matters Traveling Workshop explores migration and mobility by developing artwork, exhibitions, performances and public interventions. The artists of the MMTW have all been immigrants multiple times. Although they were born and have lived in different countries and speak diverse languages, they share the experience of "serial migration," a concept developed by Susan Ossman in "Moving Matters paths of Serial Migration" the book that sparked the creation of the collective. The MMTW pursues this research probing how experiences of migration have shaped themselves and others through their art.
The art of the workshop develops in the image of the serial migrant, evolving through a process of progressive inhabitation. Each workshop includes a new mix of participants in a new country and type of space. Each focuses on a specific issue. The workshop links these meeting by including several past participants and artworks in each new endeavor. Videos of each workshop and the memory book project create and preserve the memory of the expanding and evolving group.
To date, the workshop has developed artworks, exhibitions, performances and public interventions in California, France, the Netherlands, Romania, Spain and Germany. See Allegra Lab's series about the MMTW at http://allegralaboratory.net ______________________________________________________________________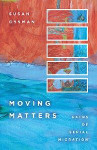 The Moving Matters Traveling Workshop began in May 2013 as a creative response to the book
Moving Matters Paths of Serial Migration
by Susan Ossman.
______________________________________________________________________
MMTW AMSTERDAM 2018 | TRAVERSE HERITAGE: VOICE, BODY, MOVEMENT
On 17 May, 2018 Moving Matters will partner Amsterdam Museum for an afternoon of a performance and a round table. In this Amsterdam 2018 edition of Moving Matters Traveling Workshop, Uthra Vijay, Priya Srinivasan, Dennis Thompson and other members of MMTW come together to reflect on the relationship of text to voice and movement as it impacts the ways in which histories are constructed, passed over and lived out.
CHICAGO 2018/ Made in (Dis)Place(ment)
The MMTW will be staging performative and interactive "interruptions" at the Council of European Studies conference 28-30 March.